In its setting of more than 4 hectares, below the famous Tarassac bridge, the campsite offers holidaymakers a pleasant shaded stay. Built in 1966 on a rocky peninsula, this canvas village is harmoniously enveloped by the loop formed by the river Orb which is joined by the river Jaur downstream.
The camping has 130 sites and was inaugurated on the 17 July 1968, It was given it's name from the local language (Occitan) meaning« boulders », those amongst the sites were deposited during the ice age, Shaded by the rich flora such as evergreen oak, olive trees, chestnuts and poplars bordering the river it offers a feeling of freshness and wellbeing,
For Information
A herd of sheep with their protection dogs (border, patous...) is currently in the hamlet of Douch, it is also possible to meet them on the trails of Caroux. To protect their herds against attacks by wolves, dogs or lynx, breeders and shepherds in this area use guard dogs.
In the presence of guard dogs, stop while they identify you, remain calm, do not threaten them, do not pet them.
Get off the bike and walk alongside. Keep your dog on a leash. Read more ...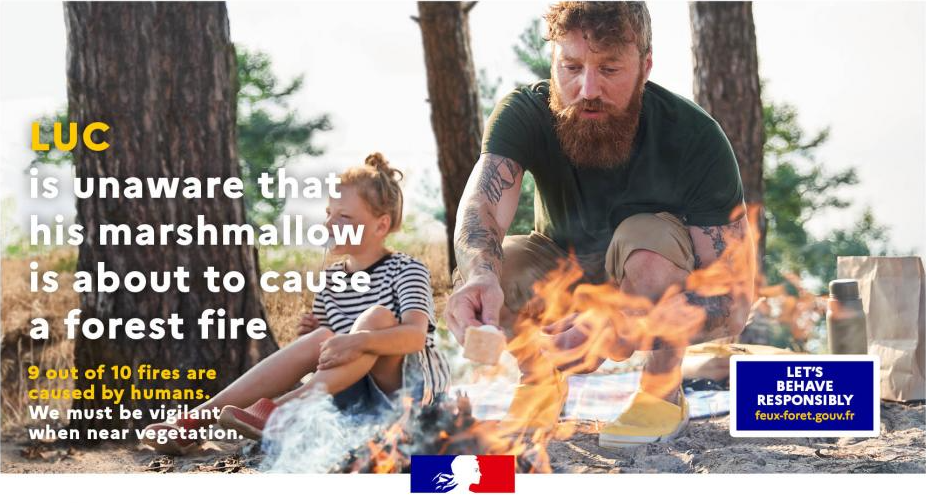 In France, 9 out of 10 fires are caused by humans. In the event of drought, a heatwave or strong winds, it only takes an unextinguished cigarette end thrown from a car window or on the roadside, or a spark from machinery used in a field or garden, to destroy vast stretches of vegetation in just a few minutes.
A simple act, but one that can have seriously destructive consequences for nature, for housing, for businesses and campsites, that may kill animals and even pose a threat to human life.
So let's behave responsibly, especially during this period of drought.
We remind you that during this period of drought, any use of fire is prohibited in the classified massif of Caroux including the Gorges d'Héric (including cigarettes).